Apex (CPX) ICO Fast Facts
ICO Crowdsale Start Date: December 2017/January 2018
Maximum Discount: 20% bonus (Public presale. Minimum and maximum purchase will be 13 NEO)
Platform: Neo
Amount Raised: $25m USD (with a 50% crowdsale, values the company at $50m USD)
Apex (CPX) Utility
APEX is an interesting beast. Straight off the bat, its actual use as a rewards scheme or consumer tracking app doesn't really interest me that much. I have a wallet full of loyalty cards and frequent flyer cards that I reluctantly use to get the most out of my shopping patterns. I came embarrassingly close to overlooking APEX because of this and the fact that there are a number of alternate blockchain based projects that fulfill a similar role.
What made me change my mind were the organisations involved in this. It's not just a card for a single retailer like Woolworths Reward or Qantas FF. No, they want to do it all and they are starting with some big name brands. They already have 250+ customers in their brand network and are growing even further. Brands tend to fall into the luxury or opulent category and while APEX is dominated by Chinese brands, there are a broad range of global powerhouses in there too.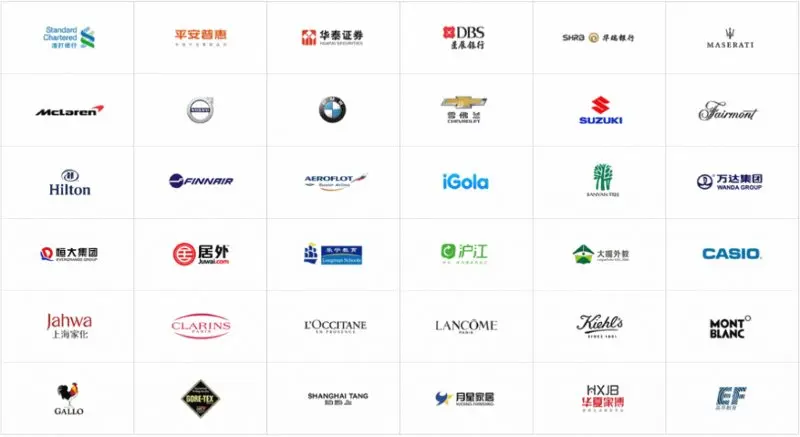 Chinapex, the company behind APEX, have partnered with a wide range of brands already. Brands which are, especially in China, growing at a phenomenal pace. Better yet, they all position themselves in the upper end of the market in which they operate. Effectively, it has the ability for cross promotion and targeted advertising as well as consumer tracking of high wealth clients. Frequent Hilton hotels guests may also be interested in BMW offers (and I'm sure BMW drivers would be of interest to Hilton hotels as well).
It is my belief that the APEX project could take products and their existing customer bases and use the blockchain to scale them to a new level, offering new service types and continuing to grow in those sectors.
So yes, I can see this changing the game. From just another individual reward scheme to an elite level customer reward and tracking tool which benefits both the consumer and the brand.
Apex (CPX) Team
Apex is led by Jimmy Hu who started Chinapex fresh out of University (UC Berkeley) 6 years ago. Along side him is the Chinapex co-founder and alumni of Jimmy's, Tiger Yang. Both of these guys have been able to build Chinapex into the organistion it is today. They have intimate knowledge of the industry, the business and the technology. I've spoken to Jimmy a number of times since I commenced research for this review. While I can't share the topics of our conversation, I will say he is a genuine entrepreneur who is proud of what he has been building. He isn't looking for a quick dollar. At every part of the decision making process he thinks about how this will enable or enhance the company to keep it growing in the long term. This is evident in the well managed presale and the alliances he is making with other tokens (Red Pulse (RPX)), etc. He is passionate, enthusiastic, driven and has the business mindset and contacts to achieve his goal.
Supporting the co-founders are Richard Wang and Robert Xu: two big technical geniuses from Alibaba, one of the few organisations that can make Amazon look like a ma-and-pa sized store. These two are technology leaders with experience in machine learning and big data/stats.
Then there are almost too many advisers on board as well. A number of venture capitalists and investment representatives, crypto and blockchain experts. Sprinkle in a couple of marketing reps and even the Red Pulse founder (Jonathon Ha) and all aspects appeared covered.
This initially raised flags in my mind about the equity requirements for all of these people, but I am happy to see it is a low-to-average 15% assigned to the team and their advisers. The only other outstanding query I have is, who is in charge? Having this many experts in the room, all with their own motivations, can create a 'too-many-cooks-spoil-the-broth' type situation. From the research I have done and the conversations I have had with Jimmy, I choose to give him the benefit of the doubt. I expect him to be strong enough to lead this large crowd down his stated journey path… but it is something to keep in mind.
Apex (CPX) Roadmap
Chinapex have a great head start. They are an existing company with a very capable product, which they are looking to scale out further by using the blockchain. They already have the business relationships with over 250 brands in place and they are still growing.
APEX have set themselves an extremely busy schedule for the next 12 months. On top of building a blockchain solution from the ground up, they are also looking to launch offices in 3 new countries, develop new consumer and brand mobile apps, implement advanced features such as cross brand reward support and even launch a IoT solution as well.
I actually think this is over ambitious, which isn't necessarily a bad thing. I'm excited to see them pushing boundaries. Even if they miss their target, a few extra months taken to add the advanced features will not detract from the solid product produced within the time frame given.
Apex (CPX) Value
A valuation of $50m USD for the company that could lead the way in the upper of the market for data and intelligence appears fantastic. Their consumers just want a simple product to give them benefits, and their brands want to leverage consumers with a little extra spending money…
As the brand grows into new markets it will be interesting to see how rapidly they can grow their customer base. Their goal is to access the data of 1 billion users. This is a very tall order, even in a country with the population of China!
Apex (CPX) Transparency
The team have been very transparent throughout the ICO period to date.  All team members and advisers have a profile linked from the main page. Chinaplex as a company has made a lot of their information public and available to western users. Social media accounts are continually updated and maintained.
The campaign is conducted solely in NEO. Pegging a token to a single currency removes a barrier to entry for users who would otherwise look at the best value buy-in currency at a particular point in time. It is also good to see the token supporting the broader NEO platform like this, through the required purchase of tokens and by simply getting the NEO name out there to new buyers.
Apex (CPX) Distribution
The whitepaper is extremely detailed and covers the existing consumer/brand solution as well as the plans for growth. It is good to halve the tokens (50%) going to members of the public. A massive 25% is also assigned to the growth of the ecosystem which is great!
While the presale is a standard distribution plan, the crowdsale is using a smart contract to distribute tokens to investors. This seems to offer them the best of both worlds and become more common with future ICOs.
Apex (CPX) Summary
APEX has a startup mindset with the intent of taking over the world. They have a fantastic range of brands already onboard with them and have targeted matching or similar brands which will only help their growth in future. Their plans are ambitious and their market has a number of (comparatively poor) competitors, but I believe there is enough to differentiate APEX from the crowd such that it can take a significant proportion of the sector.
The pre-distribution phase has closed already but, even without the discounts in the standard crowdsale, this token still offers outstanding value and a very large upside to investors.
---
Crypto Coin Disclosure
The author is providing some assistance with the community engagement of this project for English speakers.
He does not hold any tokens, but will be investing into the standard public pre-distribution phase.
Read about our transparency requirements.