MATRIX (MAN) ICO Fast Facts
ICO Crowdsale Start Date: 16 January 2018
Maximum Discount: Presale bonus up to 25%
Platform: MATRIX
Amount Raised (Valuation): $310M total evaluation (@0.31USD per token) with about $40M to be raised during the ICO
MATRIX (MAN) Utility
MATRIX aims to be a new generation of blockchain that supports smart contracts and machine learning services. It uses artificial intelligence (AI) techniques to solve emerging issues in the current blockchain implementations. This makes MATRIX:
Easier to use. Users will design smart contracts using natural languages. As a result, this technology will be accessible to a larger audience than just programmers and will therefore improve uptake.
Safer to use. The blockchain will employ an AI security engine. This engine will prevent the exploitation of smart contracts such as that displayed in the DAO attack.
Faster to use. The eventual goal is to outperform the VISA payment processing system with a throughput of 1 million TPS (transactions per second).
Flexible. The blockchain will optimise itself to the markets' needs. Also, MATRIX will meet different needs simultaneously using its AI-run multi-chain scheme. This adaptability reduces the risk of hard forks which would split the community and devalue the currency.
Another interesting feature of the MATRIX blockchain is that the mining system uses MCMC (Markov Chain Monte Carlo). This mean thatpeople/organisations can harness the mining power generated by PoW (proof of work) to solve real-world, computer-intensive problems. The ability to put all that computing power to great use is a fantastic feature! Unfortunately though, current computer architecture does not natively support MCMC computations. However, the MATRIX team are addressing this problem. They already have a prototype of a 1st-generation mining machine which they plan to implement as a single IC (integrated circuit) chip within 2 years.
UPDATE (10 Feb 2018): MATRIX is working with the the One Belt, One Road project as the exclusive blockchain partner AND the exclusive AI partner for its research and development arm. This is a huge partnership as it cements MATRIX place as one of the world's leading experts on both blockchain and AI.
MATRIX's head of business ecology/partnerships is Executive Projects Expert for the state-owned Belt and Road Research and Development Center. MATRIX are the exclusive blockchain partner and the exclusive AI partner for the center and all blockchain related Belt and Road contracts and projects via the center go to MATRIX. -- "Belt and Road Development Research Center and Luzhou City Government signed a cooperation and development alliance" article on qq (source | translation).
The One Belt, One Road initiative is the worlds largest mega-project in history. Covering 68 countries and 65% of the worlds population (source), its goal is to reestablish the modern day silk road. This strategy underlines China's push to take a larger role in global affairs with a China-centered trading network. MATRIX will bring its expertise in blockchain and AI technology to  help manage the next generation of roads and transport system including the many IoT devices required to manage such a vast system.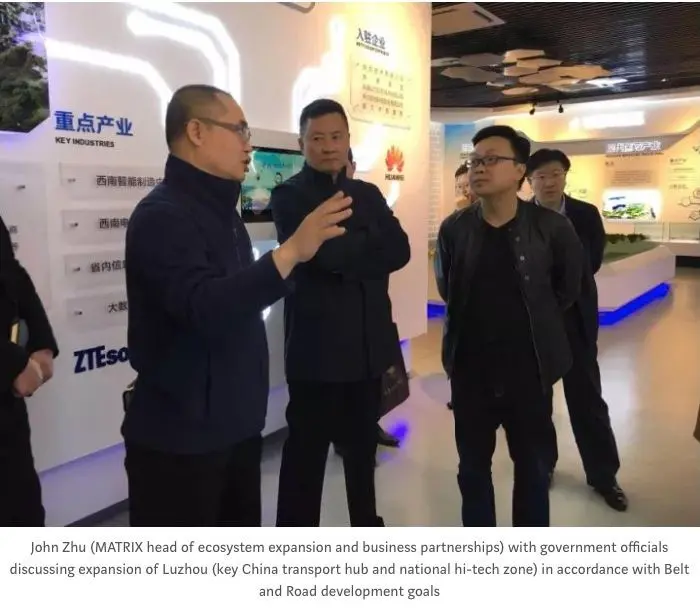 MATRIX (MAN) Team
The MATRIX team definitely have the skills and experience required to pull this ambitious project off - the amount of experience in this team is staggering. I find it interesting that the first person introduced (on the website) to us is their Chief AI Scientist, Steve Deng, and not their CEO. Placing their AI expert first really emphasises just how vital AI is to their project. They clearly value their technology staff as their AI specialist is followed by a blockchain specialist, then a hardware specialist, and then their business specialists (CEO and Senior VP). By prioritising their technologists, it is obvious that they believe in their product.
The team is one of the most technical all-star teams I have seen of any ICO. As a very brief summary:
Chief AI Scientist Yangdong (Steve) Deng is an associative professor at Tsinghua University and principle investigator of the Parallel Electronic Design Automation Project at NVIDIA.
Chief Chip Scientist Tim Shi has a decade of silicon chip experience, including a stint as principal system architect at AMD and similar roles at ARM.
Chief Network Architect Qinghua (Bill) Li is an expert in communications and IC designs.
Also included in their team are Chief Executive Officer Owen Tao, Senior VP John Zhu, Chief R&D Engineer Ethan Tian and many more. They all have rich and expansive histories with experience working at the likes of Google, Microsoft, Dell, Facebook etc. Between them, they bring to the team a wealth of knowledge as well as experience with large IT projects. They are all well aware of the importance of designing for scale from the outset.
On top of this, they have four advisers supporting them who bring real world knowledge and experience to the team. I am excited to see it is not just another bunch of investment groups. Dr Donglin Wang is the Director of National ASIC Design Centre in China (among other fascinating roles). Tony Surtees has numerous networks in the technology and cloud space. Ouyang Hongwu and Dr. Jinyang Wang complete the list of advisors and come from an investment and a legal background.
I was excited to see some big names in the Partners and Investors section as well. Major Chinese and Investment groups are getting onboard. Organisations such as Hyperledger, the Chinese association for AI, China youth credit, F&H, Signal Ventures, Cybernaught, etc. I could dedicate an entire article to the experience and leadership this team brings and I still couldn't do them justice. I suggest you read more about them on their website.
MATRIX (MAN) Roadmap
MATRIX divides their roadmap into four Epochs:
June 2018: Age of Genesis - Initialisation and deployment of the basic infrastructure
September 2018: Age of Speed - Deployment of the high speed network
March 2019: Age of Civilisation - Deployment of AI-secured intelligent contracts
December 2019: Age of Wonder - Deployment of mining facilities and big data applications
According to their Information Memorandum [This link has now been removed], "a new, separate Matrix Blockchain will be created and deployed before March 2019" (ie before the third age, the Age of Civilisation). You will be able to swap your ERC-20 MAN tokens for MAN tokens on MATRIX once they activate their blockchain.
This roadmap indicates that development will take a little longer than the usual ERC-20 type ICO. 2020 is an eternity away in cryptocoin time, but then you have to consider what they are building here. This team is not here to deploy yet another token, or even fork of the existing blockchain solutions. They are designing everything right down to the silicon chips, in order to solve complex problems with AI. We're talking about a self-healing, self-improving blockchain that will be able to handle the scale that 2020 will need.
As a technologist, I understand the long time-frame on this project. As a blockchain enthusiast, I want it now! As an investor, I am happy to see that there are clear milestones. This will not only allow us to monitor the progress of the project, but it will also continue to generate interest for new investors in the future. MATRIX is not likely to fade off into the background or disappear from the media between now and then!
MATRIX (MAN) Value
MATRIX is initially valued at $71.3M USD (230,000,000 tokens released before the MATRIX blockchain is deployed @ $0.31USD per token). This is a larger-than-average valuation, especially seeing as though this is for only 23% of the tokens. However, as I mentioned before, this is no ordinary token release. The MATRIX project aims to change the entire blockchain game and to do that, they will need plenty of funds.
The valuation after the MATRIX blockchain is deployed, using the current token value of $0.31USD, is $310M USD. Conservatively, I believe this could be a top 20 coin when it is formally launched on its own blockchain in 2019. This places its market cap at $3.5B USD. Whilst I do not typically like to predict future value, this represents at least a 10 times value increase in 12 months. It also sets a very solid floor for any subsequent token sales.
MATRIX (MAN) Transparency
The MATRIX project is very transparent. There is ample technical information on the website and in their whitepapers. Their telegram channel is active and regularly updated with information. All-in-all, I was able to find information fairly easily and quickly whilst researching this project.
MATRIX (MAN) Distribution
The distribution of MAN tokens will be a little different to normal. As they are raising funds to build their own blockchain, they will initially distribute ERC-20 tokens on the Ethereum platform. These will be made available to investors at the conclusion of the ICO and tradable shortly thereafter. Once their platform is launched, these ERC-20 tokens will exchanged for the new MAN tokens on the MATRIX blockchain on a one-to-one basis. There are 1B tokens int total which will initially be distributed as follows:
130,000,000 (13%) sold in the initial token sale
100,000,000 (10%) retained by the Foundations for founders, directors, advisors, early backers, management and community initiatives
After the MATRIX blockchain is deployed (before March 2019), the rest of the tokens will be distributed as follows:
220,000,000 (22%) issued in subsequent sale(s) as Additional Token Sales (ATS)
400,000,000 (40%) reserved for mining rewards
150,000,000 (15%) allocated to the foundation as management and sales incentives, grants and scholarships to support R&D, administration, marketing and community construction activities of the MATRIX blockchain
Assigning 25% of total tokens to the team is a little high, but you do have to consider that they are using this to create a foundation for the ongoing development of the platform. They want it to grow and develop well after its initial launch. Also, this is the first time I have see money assigned for grants and scholarships.
Investors will be able to purchase 35% of the tokens. A little low, but also factor in that miners have 40% of the tokens available to them. This results in 75% of the total tokens made available to investors who support the project (by buying or mining tokens).
MATRIX (MAN) Summary
MATRIX is one of the few projects that has the very real capability to change the world. It will be heads and shoulders above anything else in the cryptcoin world. They are building everything from the silicon to run this new platform on to the AI and machine learning required for it to self-adapt. The team consists of leaders in the very fields they require which is perhaps even more exciting than the product being developed. These people are global leaders in AI, silicon chip development, software engineers who have the right mix of academia and real-world experience in market-leading organisations.
For investors, this ICO offers a very early entry into a market-changing project. This will come at a cost, as the time it will take to develop is longer than many other tokens. To account for this, the team have provided generous details in their roadmap with frequent milestones defined. I expect a slow and steady increase to the value until a proof of concept is release, or the project is able to demonstrate its capability. Definitely one to keep in your bag as a medium to long term success story.
---
Crypto Coin Disclosure
The author is not affiliated with the above token or with the promotion/marketing thereof.
She does not hold any tokens and has not participated in the private or public sales, however other members of the team have.
No payment or private consultation was sought for this article.
Read about our transparency requirements.