DAX Network (DAX) ICO Fast Facts
ICO Crowdsale Start Date: Presale: 7 February to 14 February 2018 - Crowdsale: 14 February to 28 February 2018
Maximum Discount: 20% (Presale)
Platform: ETH
Amount Raised (Valuation): $31m USD (with 30% sold in the crowdsale and 30% given to community supporters, values the company at $51m USD).
DAX Network (DAX) Utility
The DAX Network aims to hand back control to consumers over their own data. Data-Owners, or consumers, will be able to see and control what data is visible for use by Data-Users (businesses,  non-profits, research companies, etc). Data-Users will benefit from this collaboration by gaining access to, theoretically, higher quality data. There will also be Data-Exchanges which appear to aggregate and add value to the data which would then be used by the Data-Users.
Participants will require the ERC20-compatible DAX token in order to operate on the network. Data-Owners will be paid in DAX for access to their data. Data-Users will bid on the Data-Exchanges for access to data and the exchanges will charge a transaction fee for facilitating the transfer of the data.
The greatest benefit, that I can see, of this network is that it is very consumer (Data-Owner) friendly. This is fantastic for encouraging Data-Owners to use the platform. On top of this, the network will launch will with access to 100M+ records over thousands of domains. This is due to their collaboration with the AddShoppers' Platform. According to their blog, 100M records is enough to attract the attention of 90% of advertisers. This is great for attracting Data-Users to the network.
While this all sounds fantastic, I am a little cautious. It will launch with only one Data-Exchange - AddShoppers, a business started by the co-founders. On one hand, this provides them with a solid base of data to kickstart the network. On the other, their plans to only add hand-picked exchanges raises some concerns. I believe this will be done to control the growth of their network, ensuring quality, security and stability. However, it is something to be aware of.
One other concern I have, is how they will store and control Data-Owners' data. They have experience in this field through their AddShoppers business, however I could not find any technical details on how they would achieve this.
DAX Network (DAX) Team
Cofounders Chad Ledford and Jonathan West both went to uni at Appalachian, in North Carolina, studying management and computer science respectively, these two have a long history together and appear to compliment each other well. Since uni, they have founded a number of companies including Nebo Agency (an online SEO consulting firm), 3tailer (an online retailer) and AddShoppers. All previous companies are still up and active and appear to be going well.
Chad and Jon have been working on AddShoppers for almost 7 years, analysing and engaging consumers globally across thousands of domains. AddShoppers enables a business to better understand its customers and identify its most valuable social channels. The current ICO is looking to take this existing product and use the advantages of blockchain technology to make it even better.
I am excited to see the right balance of management and technology in the founders. It is great to see they both have experience in launching successful startups and that they already have a product in the market. While a good working relationship between the guys is great, I would prefer to see a little more variety and different experiences in their work history. To counter this, it looks like the guys have surrounded themselves with a team that consists of a variety of backgrounds.
The team have a heavy tech bias, which I love. There are advisors and investors on-board already, but these are kept to a minimum to allow the team to control their own direction. Overall it appears to be a good team, with a very strong background in the industry.
DAX Network (DAX) Roadmap
Dax have years of experience developing the AddShoppers product and have provided a roadmap out to Q2 2019. They are already off and running by expanding on their current solution. This allows them to get a product to market extremely quickly. They have planned for a 2nd version of their data platform as early as the second quarter this year. From this point, there will be a steady flow of releases to add additional functionality to their product:
Q2 2018: Customer Data Platform V2
Q3 2018: Consumer Data Portal
Q3 2018: Consumer Native Mobile Apps
Q4 2018: 3rd Party Data Integrations
Q1 2019: Opt-in Personas
Q2 2019: Decentralized Data Storage
DAX Network (DAX) Value
A valuation of $51m USD is a little high, but when you consider the data broker industry is worth $200b USD, it suddenly seems very reasonable. Even being able to acquire just a fraction of a percent of this market would be huge for the project.
DAX Network (DAX) Transparency
This ICO has been a bit of a sleeper project, but most of the information is available on the website. There is a distinct lack of technical information, but this may not be an issue as they are building upon an existing product (their AddShoppers platform). I normally like to see the technical details as it shows that the team has put in the thought and preparation required to launch their ICO. I would love to see more information on the implementation of their network, as this would give me more confidence in their ability to achieve their goals.
DAX Network (DAX) Distribution
There will be 750M tokens distributed with a hard cap of $31M USD, in total. The 15% of tokens for the Team and Advisors will be locked and released monthly over two years. The distribution has been clearly specified on the website and whitepaper. I do wish there were more details regarding the Community Reserve portion and how this will be used.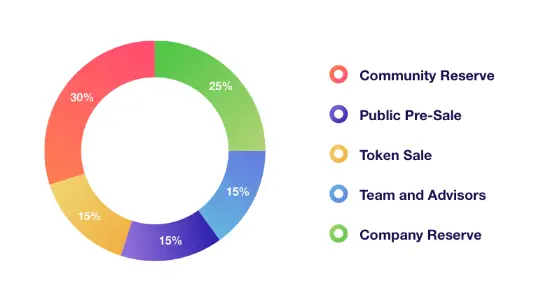 DAX Network (DAX) Summary
DAX is definitely worth keeping a very close eye on, as they have the right experience, skills and data to be a major force in the marketing industry. The DAX Network is an empowering platform as it is very consumer (Data-Owner) friendly. Also, starting with a solid base of 100M+ records on which they will build their platform is great head start. I am a little cautious of the lack of technical details as well as their initial monopoly of the Data-Exchanges (due to their ownership of AddShoppers). Overall DAX looks like a promising project, that has already made great connections within its industry.
---
Crypto Coin Disclosure
The author has no affiliation with the above token or with the promotion/marketing thereof.
He does not hold any tokens and has not participated in the private or public sales.
The DAX network has requested a Prioritised Review of this ICO, however the contents of this article remain at the discretion of the author.
Read about our transparency requirements.