If you have followed the first and second part of this how to buy cryptocoin guide, you should have an account on an Australian cryptocoin exchange, had the account secured and verified and deposited AUD from your Australian bank account into it. For this entry, we'll buy cryptocoin on the exchange.
Buy Cryptocoin that is widely accepted, such as BTC or ETH
One thing to highlight, is that there are thousands of options to buy cryptocoin, and thousands of different cryptcoins which can be purchased. As it would be difficult for exchanges to offer every trading pair, most exchanges have a set of base cryptocoins that can be traded for any other cryptocoin.
As an example, Quantstamp (QSP) and Red Pulse (RPX) are both popular cryptocoins, but you would not be able to trade one for the other directly. You would need to go to a 'base' cryptocoin first (such as BTC, ETH), before then trading to the cryptocoin you desired. So if you held QSP and wanted to go to RPX, you could trade QSP to BTC to RPX. For this reason, I recommend you buy cryptocoin such as bitcoin first, so you have complete freedom to purchase any other coin afterwards. However, BTC has some issues (slow and expensive to transfer), so ETH or NEO may be better if you know what cryptocoins you are after and have confirmed if either of these will act as a base for the trade.
Understanding the trade window
Log back into BTCMarkets (Direct). If you have traded stocks previously, the following window should which shows how to buy cryptocoin to be familiar.
BTC/AUD is selected in the drop down box, so it is showing the pair that we are interested in. Just under there, you can see the stats for the pair, showing price and volume details.
The graph shows the Open, High, Low, Close prices for each time segment. Green means the price increased for that segment, and red shows a falling price.
Underneath the chart, you the  have the option to buy or sell BTC / AUD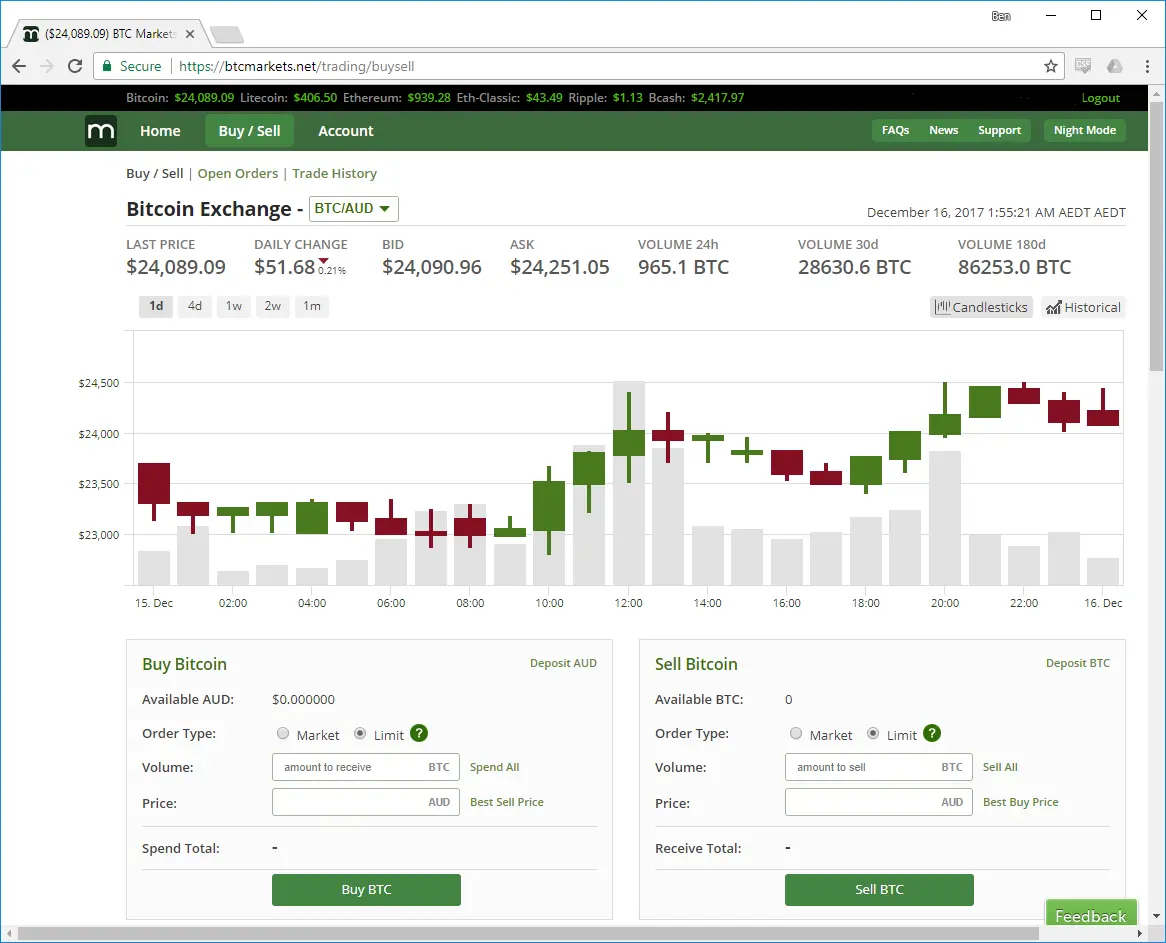 At this point, you could enter values in the 'BUY BITCOIN' section to make your first purchase.
Volume is how many bitcoins you'd like to buy. Current price $25k AUD for one, so you'll be happy to know that you can purchase them in part amounts (down to the 8th decimal place!). Price is the price you will bid for it. In the example above, you can see the last trade occurred at $24,089.09, and the next seller is asking for $24,251.05. You have the option of buying it at the asking price, or placing a bidto see if a seller will come down to your price.
For example, if you wanted to buy $2,500 AUD worth of BTC, you could enter '0.1' as the volume amount and to get at least some of that immediately, the price would be $24,251.05. Otherwise if you wanted to see if the price would continue to drop, bid at a lower price (such as $24,090.97) and see if the sellers will come down to that price.
Any value you put in here will remain active until you cancel the order. Meaning if the price didnt drop today, your bid would remain on the market until sellers came down to your price in the future, or you cancel the order.
As you fill out those two fields, the "Spend Total" field will populate, showing the total amount you are spending (including the fee). Click 'Buy BTC' to put your order on the market and see if anybody sells to you!
That's it. If you are eager, you can scroll down and continue to watch the Buy/Sell page to see the order book with buy/sell values and your open and closed orders.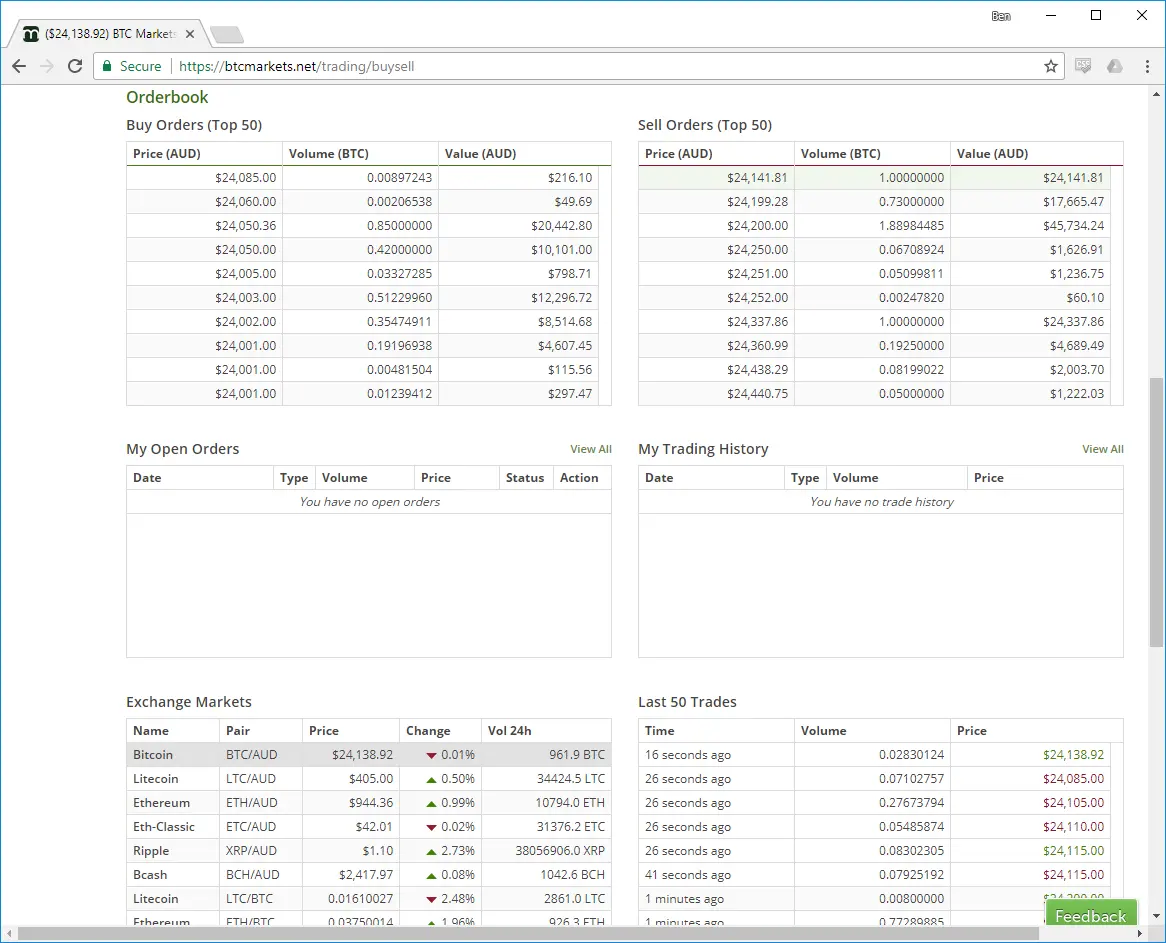 That's it! Hopefully, your bid is filled quickly and you have managed to buy your first BTC!
This will conclude the basic introduction to buying cryptocoin. If this has been useful, let us know and we'll work on some intermediate guides (securely storing cryptocoins transferring coins and exchanging across multiple exchanges) and possibly some advanced guides (technical trading signals, basics on fundamental trading, how to collect dividends with cryptocoin, etc).