This follows on from our beginners introduction to cryptocoin and will be a 3 part series, as we cover how to buy cryptocoin by creating an account with an Australian exchange and transferring AUD to the exchange.
This entry is targeted to Australians, who wish to convert AUD from their bank account into Bitcoin (BTC), Ethereum (ETH) or buy cryptocoin and other tokens. Similar systems exists for other countries, but some of the brands and vendors discussed will be different.
First and foremost, this is not financial advice. This assumes you have discussed your investment options with somebody who is qualified to give you direction.
What was it like to buy cryptocoin originally?
To buy cryptocoin has changed dramatically in the past few years. Back in 2013 and 2014, there was no simple way to buy cryptocoin in a safe and reliable way. I spent many hours sitting in chat rooms and online forums, looking at rooms and threads dedicated to trading. I would review a sellers feedback, select the person who had the greatest number of positive feedback, manually verify that the feedback was legitimate and hope that by the time I had completed my due diligence, they still had the coins i was interested in purchasing.
While I may have missed some opportunities this way, I never lost money. There are many stories of people who tried to buy cryptocoin that just never arrived.
Once the deal had been set up, I needed to transfer funds to this person. This was completed by doing everything you were told not to do. Western Union wire transfer to people you didn't know. Purchasing and gifting Amazon (or similar) gift cards for the correct value. Paypal was available, but the simplicity to revert or chargeback payments meant no one was willing to accept this form of payment.
Basically, it was a loosely defined trust system, based on the feedback scores of both the buyer and seller, and questionable methods to transfer value to the seller... Looking back, I'm surprised this didn't end up with more people being scammed out of money.
How do I buy cryptocoin or bitcoins now?
Thankfully, things have become much simpler, legitimate and with the scale to limit outrageous price requests by the sellers.
In Australia, there are a handful of exchanges which allow you to transfer money to buy cryptocoin. The big two are Coinspot (Direct Link | Affiliate Link) and BTCMarkets (Direct Link).
I have personally used both of these, and find them both great products. I usually lean towards BTCMarkets however, as I prefer the 'trading style' layout to the website, find it has a few more advanced features and most importantly, it has a higher trading volume, ensuring prices are always current. I will use BTCMarkets for this discussion, but both follow a similar process to signup and transact.
Visit the BTCMarkets home page and you'll be given a summary of the current market conditions, including price and volume details for the core pairs it handles (including AUD with BTC, LTC, ETH, ETC, XRP and BCH).
You will need to create an account, verify your identity and provide funds in order to trade on the platform (much like a stockbroking account). To be clear, you will not be able to buy cryptocoin this way anonymously. Financial regulations (including "know your customer", Anti-money laundering (AML), Counter terrorism financing (CTF) and fraud protection)
Click on the large button in the center of screen to 'Create Account'.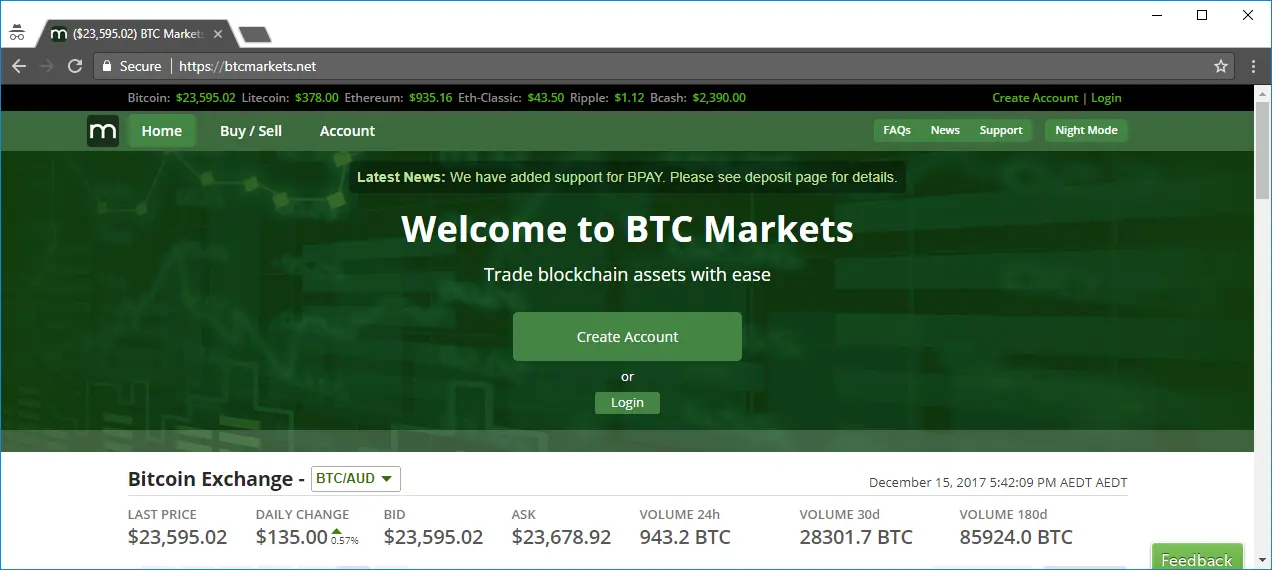 You will then be asked to create an account on the BTCMarkets website. Enter your email address and select a very secure password. Remember that it is nearly impossible to return coins that are stolen from you. At minimum, ensure you use a secure password that is not used anywhere else.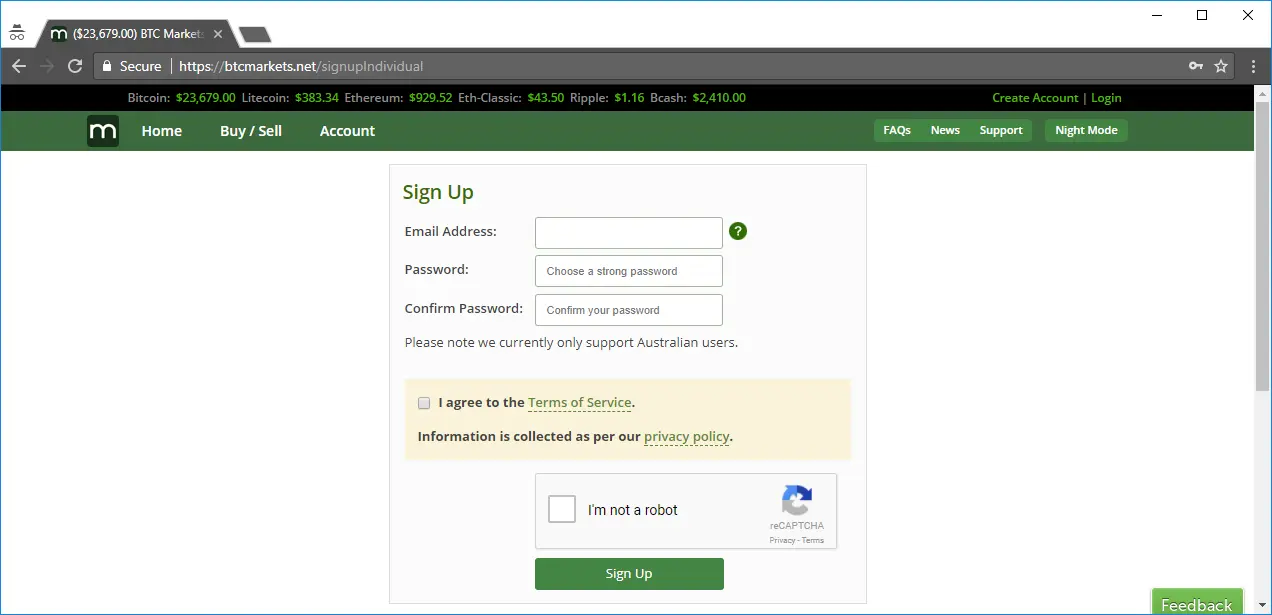 Once you submit this form, you will need to check your email to confirm registration. Open your inbox and there you should have the following email waiting for you in your inbox (if it's not there, wait a little longer, or check your spam folder).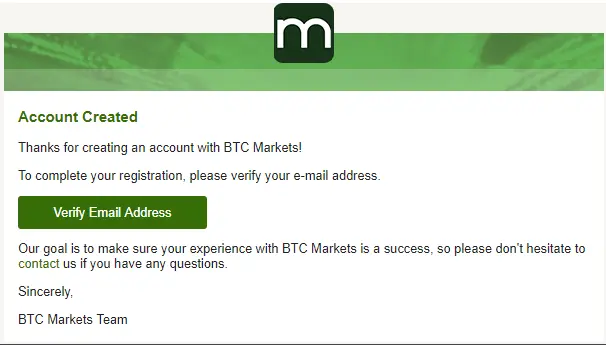 The link will verify you supplied a valid email and approve your account

Click 'Login' to login for the first time with just your username and password. Ignore the 'Two-Factor Code' for now. It hasn't been set, but you should set that up later.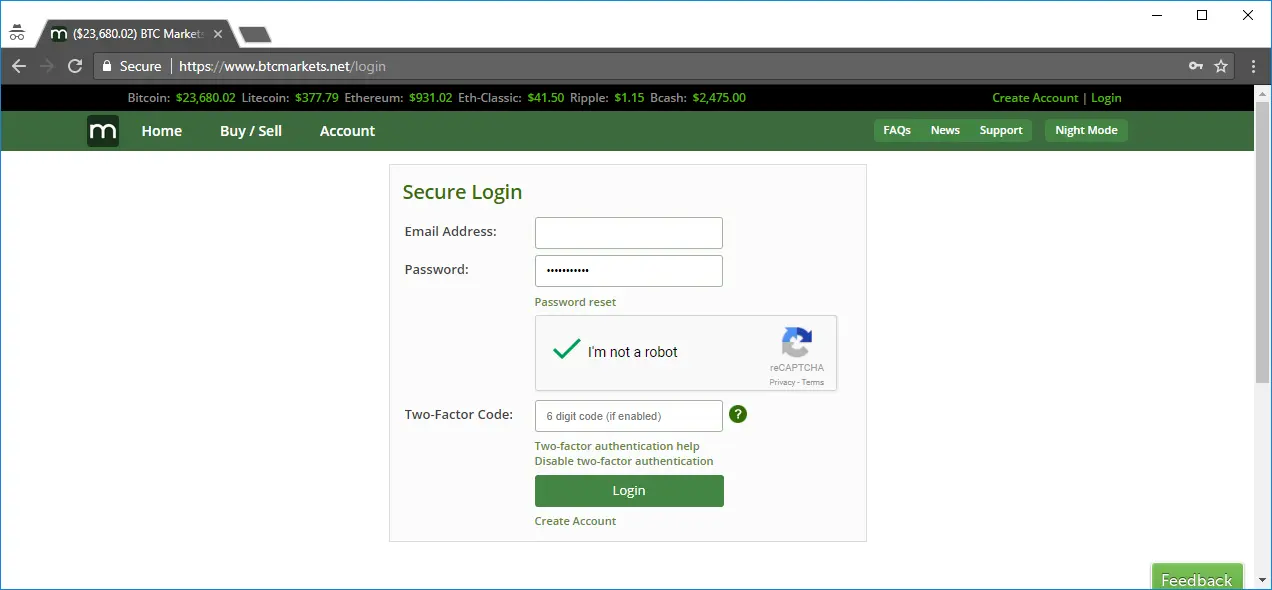 Once you have logged in, you'll be presented with your account overview page. Here you can see a summary of your account, and more importantly there are three steps (with the orange exclamation icons) that need to be fulfilled before funds can be sent in to buy cryptocoin.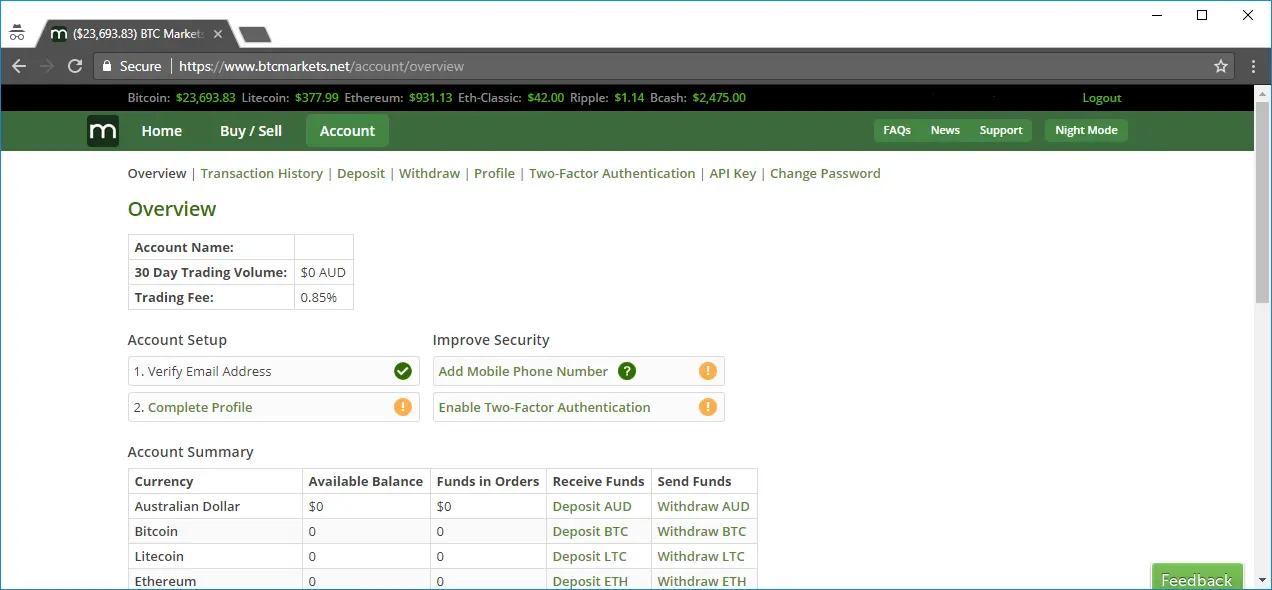 Account setup, step 1 (Verify Email Address) has already been completed. So move on to step 2 (Complete Profile) to add your personal details Enter your name (as it is shown on your identification), DOB, mobile, customer type, why you would like an account and your address.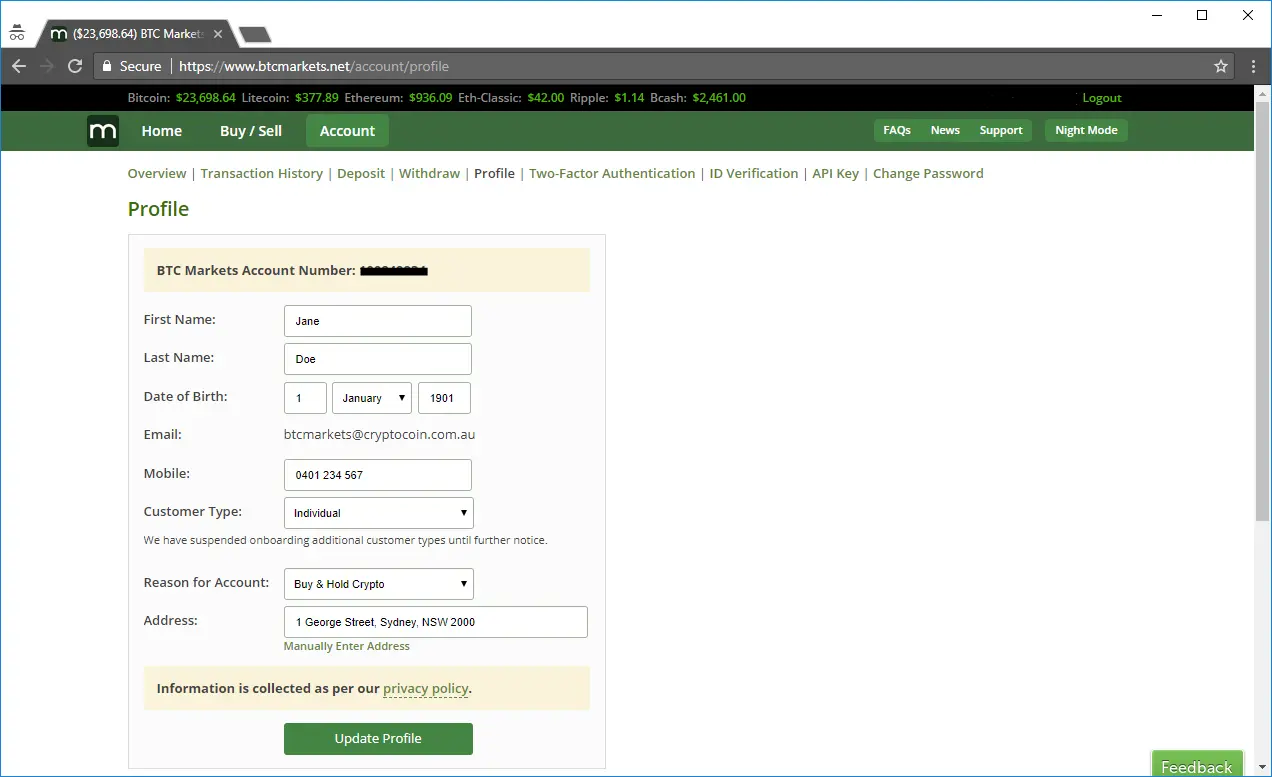 After you submit, you should then go back to the overview and Enable Two Factor Authentication (2FA). This is optional, but I highly recommend it! 2FA provides an additional layer of protection over just using a password. It means that everytime you log in to your account, you'll need to use an additional secret that only you can possibly know. To do this, install a 2FA app on your phone (Authy and Google Authenticator are popular for Android, and the same Authy and Google Authenticator are available on iOS).
These apps will create a unique seed, and generate a random six digit number based off the that seed and the current time. This means that ever 30 seconds, there will be a unique code that only you could possibly know. Even if someone else discovered this code, in less than 30 seconds time, that code will be invalid and they wouldn't be able to use it.
The instructions are on the Two-Factor Authentication page. Follow these to setup 2FA on your BTCMarkets account.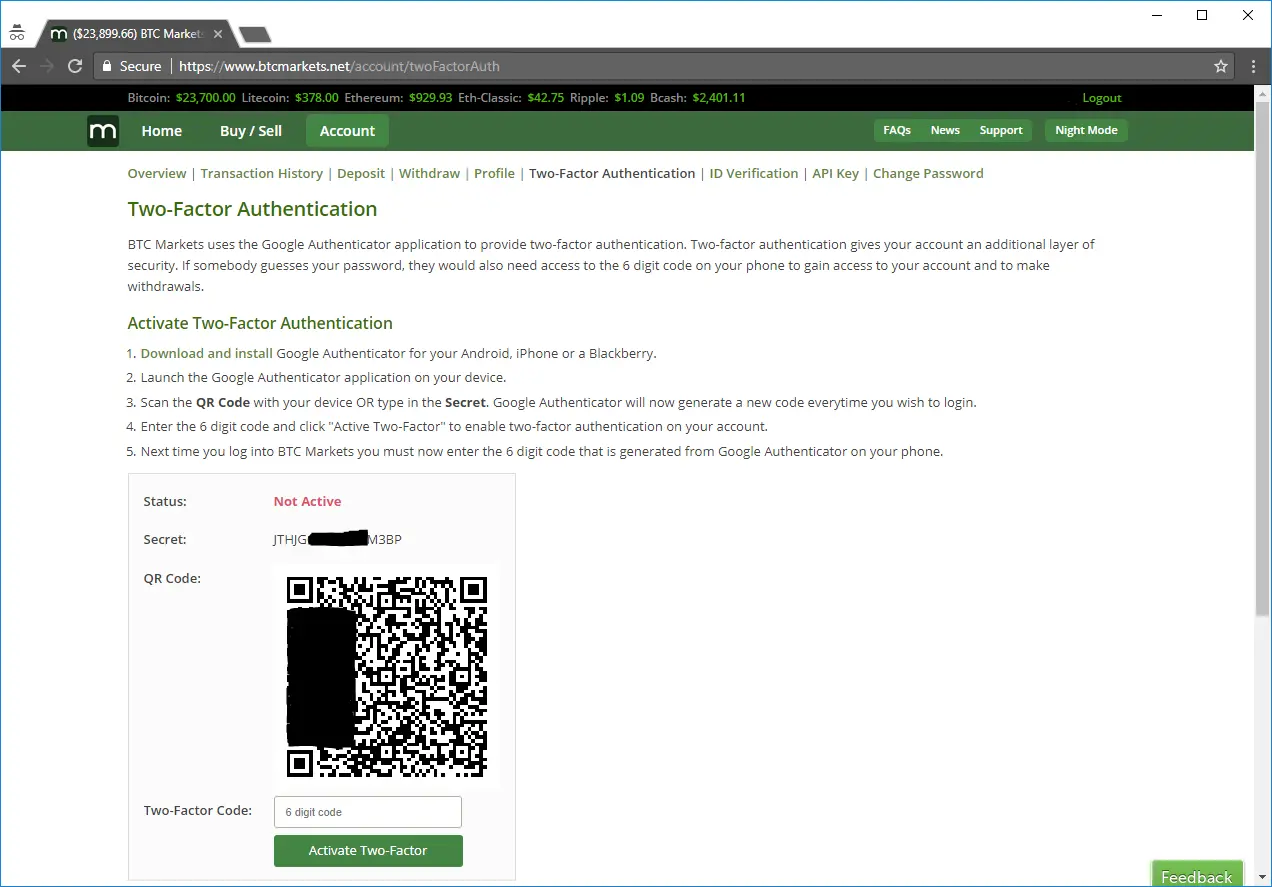 Once you have logged in again, you'll return to the Account overview page. The final step here is to validate your identity. Read the requirements carefully, and then you'll need to upload scanned copy of your identification documents.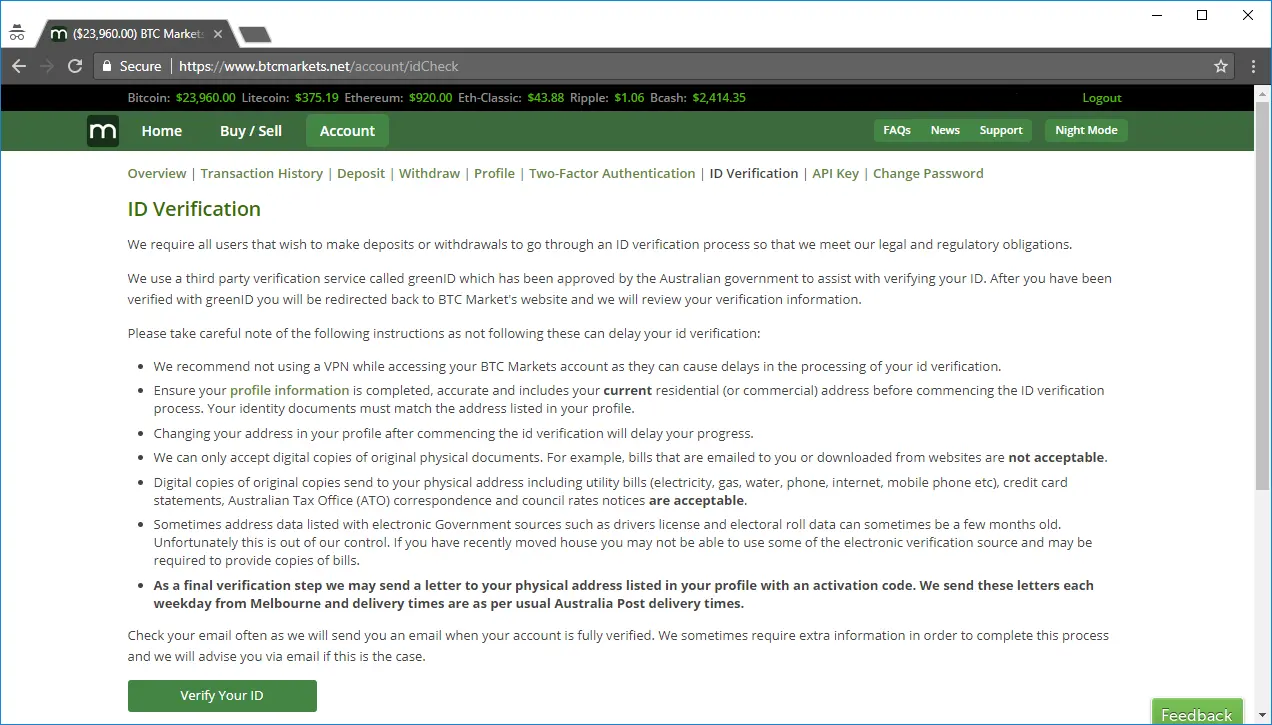 Once I had the documents requested, I found the process extremely quick and painless. Obviously, this can differ for each applicant. At this point, you have (or will shortly have) an account setup to buy cryptocoin from a small selection of options provided.
Continue on to How to buy cryptocoin and bitcoin part 2 of 3 to learn about transferring money to the exchange, and making your first purchase.